The wolf who lived for the pack, the quintessential Test batsman, Rahul Dravid came up with heroic knocks which embodied resilience and an unflinching desire to win throughout his career. Here are the best 5:
5. 146 Not Out vs England, The Oval, 2011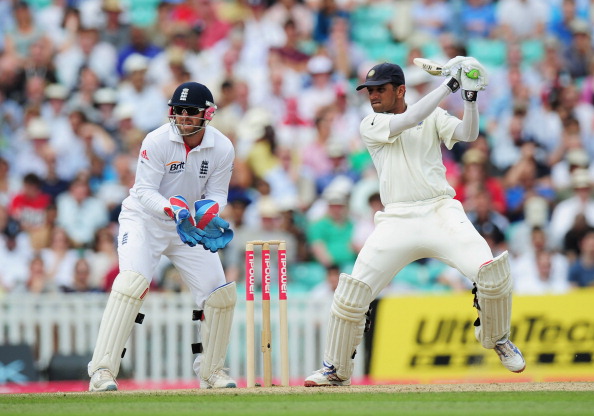 Dravid en route to his unbeaten 146
With Gautam Gambhir suffering from the consequences of a concussion, India once again turned to Mr. Dependable for respite.
Rahul Dravid, along with Sehwag opened the batting for India. With steely determination, he tried to keep the English bowling attack at bay on his own while watching wickets tumble from the other end. With the Indian batsmen showing little resistance, England almost steamrolled their way through India's batting line up.
Dravid, like a lone ranger, made it less of a cakewalk for the English, resisting them like Harry Potter obstructed Lord Voldemort. Literally and figuratively, in this match, he was the last man standing, the only one amongst 10 other "boys", with the scoreboard showing a dismal 300 all out in reply to England's 591.
India eventually lost the match by an innings and the series 4-0 with Dravid being India's highest run-getter.
4. 270 vs Pakistan, Rawalpindi
Dravid cuts as Kamran Akmal watches
The series was at stake going in to the final Test at Rawalpindi. Dravid surprisingly wasn't amongst the runs in the first Two Tests. He knew he was due for a big score and he did exactly that. After Pakistan was bowled out for 224 in the first innings, Viru got out off the very first ball and from then on Dravid took charge.
He patiently built an innings, and ended up making his highest Test score of 270 from 495 balls. India didn't have to bat again as they won by an innings. Dravid was rightfully adjudged the man of the match.
3. 148 vs England, Leeds, 2002
India went into this match after losing the first match at Lord's and drawing the second at Nottingham. Unconventionally and to the surprise of many, after winning the toss, captain Saurav Ganguly opted to bat on a pitch with a hint of green.
Virender Sehwag had been roped in to open the innings along with Railways opener Sanjay Bangar. Sehwag did not last long and fell for 8.
In came Rahul Dravid to deal with England's pacers who were looking to bully the Indian batsmen on a track that favoured swing and bounce.
Dravid tackled everything that was thrown at him with impeccable judgement – each ball bowled outside the off stump was calmly left. The art of "leaving" was practised with perfection. He laid a strong foundation for Sachin and Ganguly by taking blows on his body repeatedly to supress high bounce.
It was an innings in which Dravid had to work hard for each run and do the dirty work for his team mates.
His 148 was the most crucial contribution in this Test match. Tendulkar's 193 and Ganguly's 128 would not have been possible without the giant edifice built by Dravid.
India won the match and Dravid was correctly adjudged man of the match.
2. 233 vs Australia, Adelaide, 2003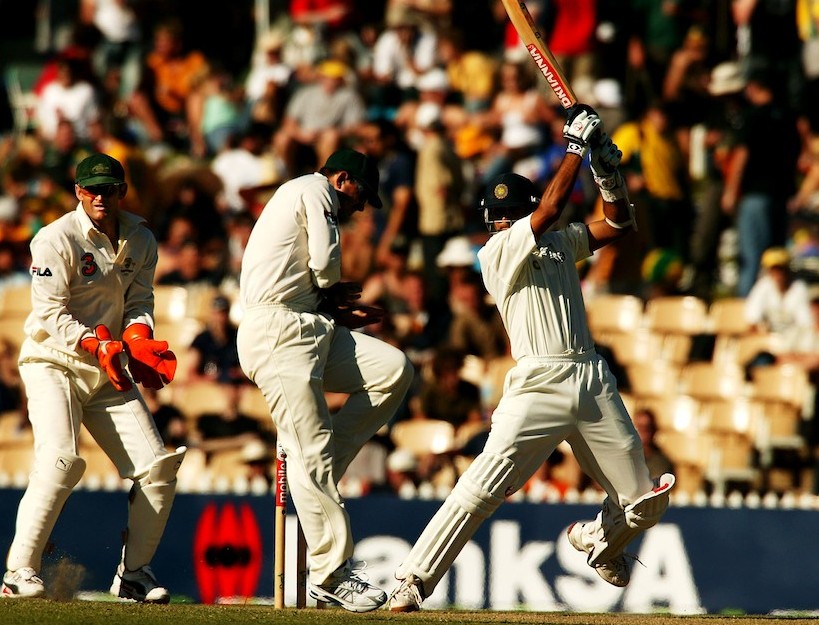 After Saurav Ganguly's ton in the first Test at Brisbane dragged India away from the clutches of defeat, the message was clear – Team India were going to be no pushovers for the Aussies, even in their own fortress of a backyard.
The pitch at the Adelaide Oval in the second Test was a batsman's paradise. Ricky Ponting won the toss and elected to bat first without hesitation. The Aussies exploited the situation well and posted a massive 556 in the first innings.
Virender Sehwag got India off to a blazing start with his 47. However, wickets fell like ninepins and in no time India were reduced to 85-4 from 66-0.
The Aussies exulted as Ganguly fell, convinced that even with Dravid and Laxman at the crease, victory was not too far away. Little did they know that the echoes of Eden Gardens, 2001 would be felt at the Adelaide Oval. Fans like us did not have the faintest of idea that our prayers were about to be answered. History was about to repeat itself.